This week we've done something a little different. I had never heard of Wevideo until this week. It's a very cool thing to use and made writing a paper a lot easier. Usually you just write a paper and turn it in then call it good. Last week we wrote the paper but this week we took it a step farther by turning it into a video with pictures, music, and your very own voice. I thought that creating the video was a lot of fun even though I'm not completely done with it yet. This project wasn't only fun but I also learned quite a bit from it as well. I learned how to communicate through videos and pictures and make it sound like a legit conversation. I also learned how to make my own rubric which I've never had the privilege of doing before and that was very nice. The rubric included things such as imagery, a soundtrack, and economy to convey a point. Being able to turn my personal story and thoughts into a video is something I've never been able to do before and I've actually enjoyed it. This week was all about learning how to use wevideo and how to express yourself in a way you usually don't. I learned that there are many different ways to

communicate

through art and a video is only one of them!
Powered by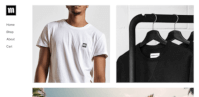 Create your own unique website with customizable templates.