This past week we've covered a few things that I've been able to understand and connect to. The very first day of class we went outside for a little activity that really made me realize how far I've come and my class has come. It also made me realize that I owe a lot of credit to those that have got me this far like my parents or friends. It really reminded me to not take people or things for

granted

. The second day of class we were told what is expected out of us for the trimester and for me anyways I think this class may be one of the easier english classes I've taken. I like how this class Isn't going to be your typical english class where you read a book and then you take a test over it, then you read another one and take another test. To me that's very boring and gets old really quickly, so I think I'll enjoy this class and connect more with it than I do normal english classes. This week we also choose SSR books that we will be reading every day. I like that in this class we are only reading for 15 minutes each day. In some previous english classes we would read for long periods of time and I would get very bored. However I do enjoy SSR and reading a good book every now and then. Hopefully this class is challenging but not anything too crazy!
Powered by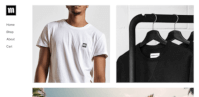 Create your own unique website with customizable templates.